Overview
Honigman's Public Company, Securities and Governance practice group provides a wide range of advice on securities laws, corporate governance, capital markets, mergers and acquisitions, and related matters to a broad spectrum of clients in numerous industries and jurisdictions. Chambers USA: America's Leading Lawyers for Business has recognized the firm's Corporate/M&A practice as the best in the state of Michigan for a number of years. Chambers USA 2019 notes that our team includes a "standout bench of corporate attorneys handling high-value sales and acquisitions" with "significant experience acting for clients in the automotive, banking and construction industries. Has a vibrant private equity practice representing funds and portfolio companies nationally as well as internationally. Also well placed to advise on securities issuances and matters of corporate governance."
We provide value to our public company clients ranging from smaller reporting companies and emerging growth companies to large accelerated filers and well-known seasoned issuers. Our team understands that there is no one-size-fits-all model for compliance with securities and corporate governance matters. Our expertise and commitment to the practice ensures we can be practical in recommending best practices that make sense for your company in the context of evolving regulations and market practice. We partner with our clients and fully invest ourselves in learning their businesses to ensure that the business drives compliance decisions. We pride ourselves on our efficiency, practicality, client service, and depth of knowledge.
We advise our clients with respect to reporting obligations applicable to public companies, including the preparation and filing of various reports with the Securities and Exchange Commission (SEC) and the stock exchanges, including Forms 10-K, 10-Q, and 8-K; press releases; Section 16 reports; Schedules 13D and 13G; annual reports and proxy statements; and Form S-8. We work proactively with our clients to establish and maintain disclosure policies and procedures to ensure that all reporting obligations are satisfied.
We have extensive experience representing issuers in capital market transactions, including initial public offerings, secondary public offerings of common and preferred equity and debt, Rule 144A/Regulation S offerings, and other private placements, as well as tender offers, exchange offers, consent solicitations, amendments, and waivers. We also advise selling stockholders, underwriters, and broker-dealers in related matters.
We represent public companies in acquisitions of public and private companies, dispositions, tender offers, strategic alliances, joint ventures, and mergers, as well as assist in defending against unsolicited bids.
We regularly advise clients on the governance and compliance requirements of the SEC, the New York Stock Exchange, the Nasdaq Stock Market, and other applicable state and federal laws. We also regularly advise private entities on governance matters. Our Securities and Corporate Governance practice group works closely with professionals from our various other practices to provide advice regarding the governance of public companies and the evolving responsibilities of their directors and senior management.
We have broad experience in corporate governance, including:
Advising boards of directors and board committees regarding structure, composition, procedures, and functions of boards of directors and committees, including the enhanced role of audit, compensation, and nominating and corporate governance committees, director independence, and independent board chairs or lead independent directors
Establishing and modifying governance policies and procedures to comply with current requirements and best practices, including charters, bylaws, board committee charters, governance guidelines, codes of conduct, insider trading, self-evaluation systems, disclosure controls and certification systems, and risk management (including cybersecurity and data privacy matters)
Designing and structuring equity and benefit plans—as well as other executive and director compensation plans and programs—to meet corporate goals, legislative and regulatory requirements, and shareholder and proxy advisory firm guidelines
Assisting in corporate structuring in preparation for capital markets, M&A, and other transactions, as well as advising on their inherent governance implications
Advising companies, boards, committees, and individual directors in the context of shareholder demands and proxy proposals, related party transactions, change-in-control transactions, auditor changes, executive and director succession planning, financial reporting irregularities and restatements, and shareholder or other litigation matters
Conducting internal investigations on behalf of companies, boards of directors, audit committees, and special committees and responding to informal and formal SEC, stock exchange, or other investigations, including foreign corrupt practice inquiries and investigations
Connect with a Professional
News & Insights
News
Philip D. Torrence is quoted in the Law360 article "Insider Selling In IPOs Declines As Valuations Fall"
What we do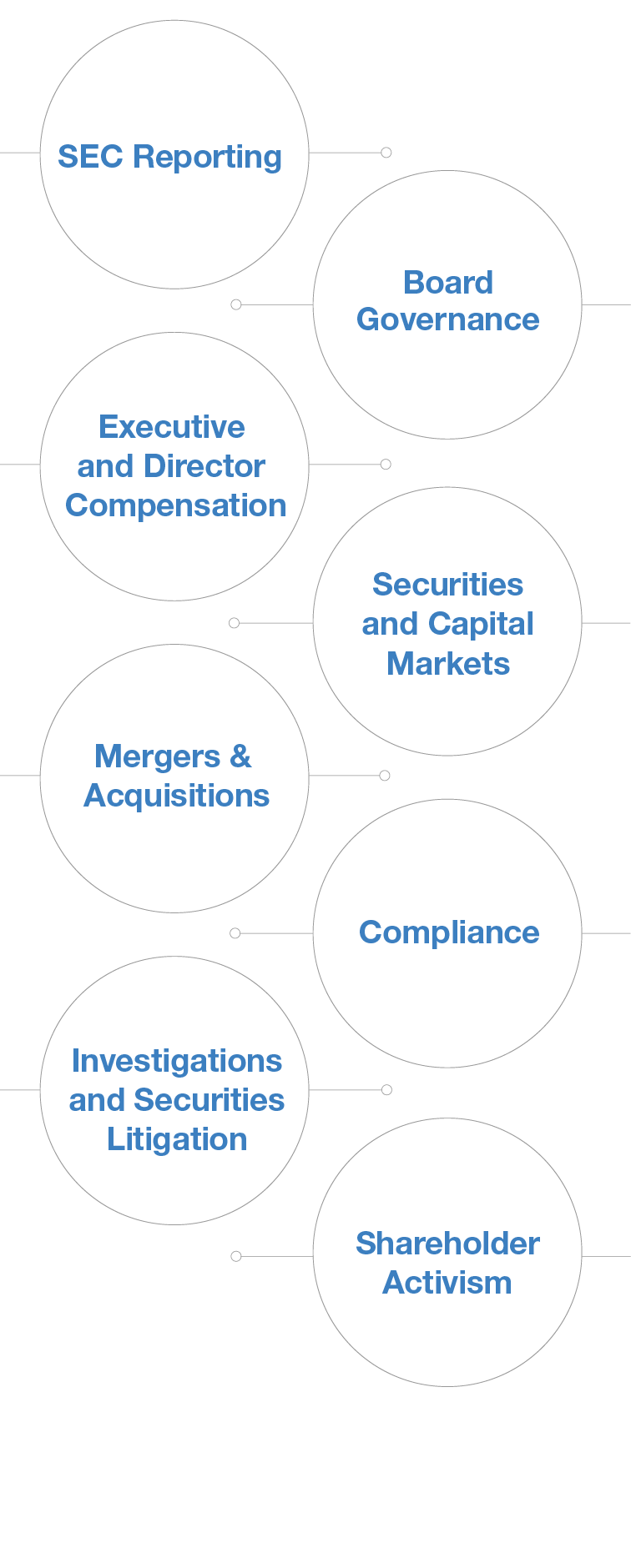 ___________________________


Representative Public Client List