Overview
Honigman's International Transactions practice group encompasses a cross-disciplinary team of professionals with a broad range of capabilities and experience tailored to meet the particular needs of clients in cross-border and multinational transactions and related matters. Our attorneys seek innovative solutions that deliver value and meet the objectives of our clients.
Our team represents U.S.-based companies in cross-border transactions and non-U.S. based clients regarding their investments and business issues in the U.S. Our multidisciplinary services emphasize cost efficiency, responsiveness, and meeting our clients' objectives.
We draw on the wide range of capabilities of our lawyers to address clients' international challenges in mergers and acquisitions, corporate governance, business immigration, finance, customs, trade, regulatory, tax, intellectual property, unfair trade investigations, insurance, employment and labor, international disputes and arbitrations, antitrust, real estate, government incentives, environmental, global supply chain management, and privacy and data concerns.
Honigman also has access to a global network of attorneys to provide service to our clients on cross-border transactions. Honigman is a member of Interlaw Ltd., an international association of independent full service corporate law firms in 140 cities worldwide. Since 1982, Interlaw has been the preferred network for global companies that require the experience of business lawyers who are fluent in the native language, laws, rules, regulations, and customs of their own jurisdiction and who are broadly educated and experienced with domestic and international matters.
Honigman has provided advice regarding and handled numerous international legal and regulatory matters, including:
Energy supply agreements for clients doing business in Australia
Customs matters, both domestic and pursuant to other countries' customs regimes
Investigations, voluntary disclosures, and enforcement actions arising under U.S. export laws, including the EAR, ITAR, and sanctions and embargoes regulations
Criminal seizures of counterfeit merchandise in various countries
Establishment of subsidiaries/joint ventures in North America, Europe, Asia, and Australia
Investigations arising under antidumping/countervailing duty and global safeguard laws
Compliance with the Commerce Control List
Labor and employment law matters in North America, Europe, and Africa
Tax matters pursuant to local law in North America and Europe
Matters related to preferential trade programs, such as the Generalized System of Preferences
Formation of insurance companies in leading international insurance jurisdictions such as Bermuda and the Cayman Islands
U.S. insureds entering into sophisticated insurance transactions with international companies
Transfers of personal information between the U.S. and E.U. and compliance with a variety of other international data-protection laws
International arbitrations and civil court cases
Mergers and acquisitions involving companies and assets located around the world
International complex structured financing transactions
Management of global intellectual property portfolios
Our international trade attorneys have practiced before a wide array of federal and state regulatory agencies with jurisdiction over international trade matters, including:
Immigration and Customs Enforcement
U.S. International Trade Commission/International Trade Administration
Office of the U.S. Trade Representative
U.S. Foreign and Commercial Service
Department of State, Office of Defense Trade Controls
Bureau of Industry and Security
Office of Foreign Asset Control
Michigan Department of Management and Budget
Michigan Department of Agriculture
Michigan Economic Development Corporation
Connect with a Professional
News & Insights
News
Media

|

Honigman Podcast

,
Press Releases
Events
It's a Small World After All: Internal Compliance for Global Clients

India-United States Cross Border Investment 2.0

Event

|

New Delhi, India

,
Alerts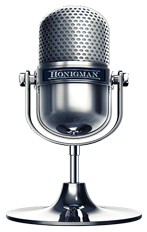 ___________
Podcast
Coffee & Counsel
Funding for Michigan Businesses to Grow Internationally in 2022
September 29, 2021