Attorneys
Practices
Honigman's Carl M. Levin receives Wade H. McCree, Jr. Award for the Advancement of Social Justice
March 16, 2016
Contact
Susan Sherbow
T: 313.465.7048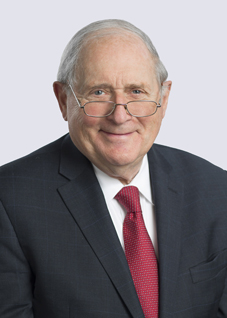 Carl M. Levin, former U.S. Senator and current senior counsel at Honigman Miller Schwartz and Cohn LLP, recently received the Wade H. McCree, Jr. Award for the Advancement of Social Justice. The award is granted by the Federal Bar Association – Eastern District of Michigan Chapter to individuals or organizations that have made significant contributions to the advancement of social justice. Throughout his career, Levin has demonstrated his dedication to the fair and equitable treatment of all people.
Levin, who served 36 years in the U.S. Senate, focuses his legal practice on assisting publicly and privately held companies in identifying and addressing legal, business and reputational risks that may bring them under public or government scrutiny and result in legal action or loss of business; providing strategic advice to companies regarding public policy and regulatory issues, and issues being considered by federal, state and local legislative bodies. He also provides mediation and alternative dispute resolution services regarding complex disputes, particularly in relation to governmental units.
Levin earned a J.D. from Harvard Law School and a B.A. from Swarthmore College.