Attorneys
Practices
Attorney Brandon C. Griffith joins Honigman's growing IP practice
July 7, 2015
Contact
Susan Sherbow
T: 313.465.7048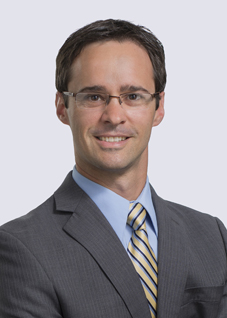 Brandon C. Griffith joined Honigman Miller Schwartz and Cohn LLP as an associate in its Intellectual Property Department's Patent Practice Group. He will be located in the firm's Bloomfield Hills office. Honigman's IP practice serves clients regionally, nationally and internationally and Griffith is the 13th attorney to join Honigman in this practice area in 2015.
Griffith focuses his practice on preparing and prosecuting patent applications in a wide range of mechanical and electromechanical technologies, including medical devices, automotive components and control systems, industrial equipment, consumer electronics, and athletic equipment. Griffith is admitted to practice in Michigan.
He earned a J.D. from the University of Michigan and a B.S., cum laude, in mechanical engineering from the University of Notre Dame.
Griffith joins Honigman from Harness, Dickey & Pierce, PLC in Troy.
Honigman's IP Department consists of more than 80 legal professionals with experience in patent, trademark, copyright and trade secret services, including search, procurement, enforcement and anti-counterfeiting. The professionals in the IP Department serve clients from large corporations to start-up companies and have experience in numerous industries, including automotive (OEM and suppliers), advertising, banking, biotechnology, consumer products, e-commerce, electronics, fashion, food and beverage, gaming and hospitality, insurance, medical services and devices, pharmaceuticals, publishing (newspapers, books, magazines, multi-media), real estate, restaurant, retailing, software, telecommunications and transportation.