Diversity, Equity and Inclusion
Statement from David Foltyn, Chairman and CEO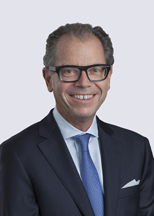 Diversity is acknowledging, accepting, understanding, and valuing the differences among people. At Honigman, our commitment to diversity is a fundamental part of our culture and our continued success. We truly believe that the diversity within our firm enhances our ability to attract and retain talented attorneys and staff and helps us better relate to and serve our clients. In today's world of global business, this is more important than ever before. Diversity brings a broader perspective to our thinking, our client relationships, and our work product and it fosters an atmosphere of collegiality and respect, which is at the core of our firm's culture.

Recruiting and retaining a diverse workforce at Honigman has been a primary goal of mine as the firm's Chairman and CEO, as it was for the many years I served as our firm's hiring partner. To me, it is not only important to have a diverse workforce: it is also important to build on the strengths of that diversity. The firm is committed to programs and processes that will provide each person with the tools she or he needs to enjoy a successful career at Honigman. We have learned over the years that practices and programs that positively impact the success of diverse attorneys and staff also positively affect everyone in the firm.
Honigman provides a workplace that encourages and supports diversity with programs such as:
Creating a clear and transparent path for a successful career at Honigman by using core competencies, benchmarks, and performance evaluations to mark progress;
Creating opportunities for professional growth for attorneys and staff through work assignments and leadership opportunities;
Providing attorney training to build legal and professional skills, especially as they relate to the firm's core competencies;
Providing special training for staff related to developing leadership skills, team building, and creating an encouraging work environment;
Providing mentors to support attorneys with their growth and development as professionals;
Allowing flexible work schedules to help accommodate work/life balance; and
Assisting each attorney in developing her/his business through the use of firm and outside resources.
It takes time, commitment, and an investment in the success of individuals to create an environment where diversity can flourish. Honigman is proud of the hard work it has done and continues to do to be an inclusive and fulfilling workplace.