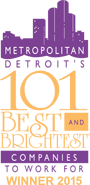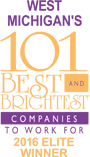 Accolades
Honigman and its attorneys have been recognized by our clients, peers and the media for our leadership in various endeavors. Listed below are many of our recent honors:
Ranked number one law firm in Michigan for the key practice areas of Corporate/M&A, Litigation and Real Estate by Chambers USA: America's Leading Lawyers for Business 2016. The Labor and Employment, Employee Benefits, and Banking and Finance practices were recognized as leading practices in Michigan. The firm's Litigation practice in Illinois was also recognized.
Twenty-seven attorneys were ranked as "Key Individuals" or "Up and Coming" attorneys in their profession by Chambers USA: America's Leading Lawyers for Business 2016.
Recognized as the Intellectual Property Firm to Watch in 2016 by LMG Life Sciences Awards.
Received a national ranking for 22 of its key practice areas in U.S. News Media Group and Best Lawyers® "Best Law Firms" for 2015.
Twenty-seven key practice areas were listed and 107 lawyers were named in The Best Lawyers in America for 2016. Twelve attorneys were also recognized as "Lawyers of the Year" by Best Lawyers in America for 2016.
In Michigan, 130 Honigman attorneys were named in the 2015 Michigan Super Lawyers, including 91 as "Super Lawyers" and 39 as "Rising Stars." In addition, Honigman had the most attorneys of all Michigan law firms named in the "Top 10," "Top 25 Female Business," "Top 50 Business," "Top 50 Female" and "Top 100" categories.
In Illinois, 11 Honigman attorneys were named "Super Lawyers" with one attorney on the "Top 10," one on the "Top 50 Women" and three on the "Top 100" lists.
Received a Turnaround Atlas Award from Global M&A Network for its representation of the Detroit Institute of Arts in the City of Detroit's Chapter 9 Plan of Reorganization.
Ranked among the top 10 law firms in the country for intellectual property patent work in BTI Consulting Group's report entitled BTI Intellectual Property Outlook 2015: Changes, Trends and Opportunities in IP & IP Litigation. Honigman was also named on the list of Most-Favored IP Departments, in which one of the primary factors is customer service.
Ranked among the top 25 for the fourth consecutive year on the Detroit Free Press 2014 Large Top Workplaces in Michigan list. Honigman is the only law firm ranked in this category.
Recognized regionally 13 times and nationally five times as a Best and Brightest Company to Work For by the Michigan Business and Professional Association.
Recognized as the Community Supporter of the Year for 2013 by Matrix Human Services, a Detroit area nonprofit organization.
Recognized as the Pro Bono Law Firm of the Year in Michigan by the Legal Aid and Defender Association, Inc. (LADA) for 2012.